I was working out one day and was watching the Food Network. They were showcasing favorites restaurants and their dishes. They showed a muffin donut that looked so delicious that I knew there had to be a recipe out there. Sure enough, I found one and it is one of my new favorite treats to make my family. It's easy and so yummy!
Muffin Donuts
(This makes 24 mini-muffin donuts. Double this recipe for regular muffins)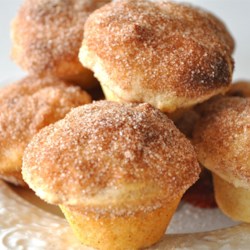 1. Preheat oven to 375 degrees. Grease muffin tins.
2. Mix sugar, butter and nutmeg (or ginger) together.
4. Stir in baking powder and flour.
5. Pour batter in muffin tins.
6. Bake for 15 to 20 minutes.
7. Mix sugar and cinnamon together, set aside in small bowl. In another bowl set aside melted butter.
8. When muffins are done, dip in melted butter, then cinnamon sugar mixture. Set on cooling rack.
**I accidentally made this with fresh ginger root and it was so good. Love those happy accidents!**